An introduction to what Lumina Gift is for, and what is included in the Gift Portrait
Lumina Gift is available to Premium and Enterprise Tier Practitioners
The Gift that Keeps on Giving
Lumina Gift allows your Participants to share one free Gift Portrait with their colleagues, friends and family, giving them a taste of what Lumina Learning has to offer.
Note: Anyone who has filled in a Lumina Spark Questionnaire can share a Gift.
Note: Participants can only share one Gift.
The Gift Portrait is a very short Spark Portrait, containing:
Welcome Page
Splash
QR Code, allowing the recipient to use the Lumina Splash App at the combined persona level.
The Gift Portrait will contain your Practitioner details, so Gift recipients can get in touch with you. We think it will be a great way for your Participants to share their experience and continue the conversation with people they know.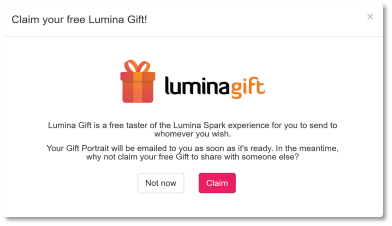 If Gift is enabled, your Participants will be shown a pop up box (similar to the one pictured above) after they complete their Lumina Spark Questionnaire.
Thank you for reading this user guide!