Learn about project settings and how to manage them
To adjust Project Management settings, first select the relevant project from your project list.
In the project, select the Settings tab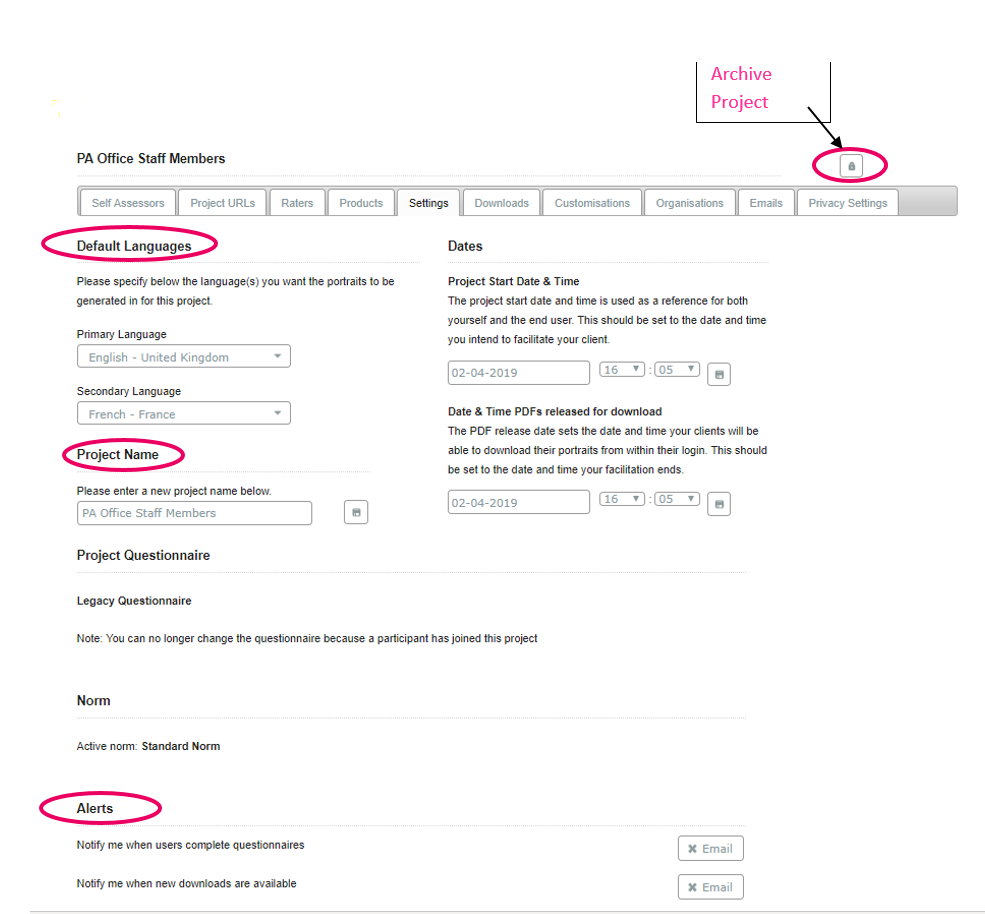 Changing the Project Title
You can choose to rename your project by entering the new name under Project Name and selecting the Save icon.
(De)Activating Email
You can choose to receive an email when a Participant completes a questionnaire or when a portrait is available to download within your project. Uncheck these boxes if you no longer wish to receive notifications.
Default Language Setting
You can change the default language in which the portraits in your project will be available to be downloaded. You can choose to make one or two languages versions. If you change the language(s), all future portraits will be available to download in that language. This is irrespective of the language the participant used to fill in the questionnaire. For example, you may wish portraits to be automatically available in French and English versions. There is no charge for downloading different language versions of the same portrait.
Changing PDF Release Dates


PDF release dates
The PDF release date reflects when a Participant can download their portraits from their Lumina Account. You may want this date to be after a workshop, so you can control when Participants see their portraits for the first time.
Archiving a Project

To archive a project, select the Archive icon.
What is Archiving?
Archiving your project is a way of sorting your old or inactive projects from your active projects. This may be particularly helpful when you have a lot of projects. When you select Projects, you will see a list of your active projects (see below). To see your archived projects select Archived from the filter options. To make archived projects active again, deselect the Archive icon in that project.